AUTUMN IN THE PEAK DISTRICT PHOTOGRAPHY WORKSHOP – wyming brook & stanage edge
Capture the best of Autumn in the Peak District with fantastic locations such as the waterfalls of Wyming Brook and the grand landscapes of Stanage Edge
---
autumn in the peak district photography workshop
VISIT THE WATERFALLS OF WYMING BROOK AND THE GRITSTONE EDGE OF STANAGE EDGE TO CAPTURE AUTUMN COLOURS
31st October 2021
09:00 – 17:00
4 People Max
Transport provided from meeting point for those happy to car share.
Easy Difficulty ( i )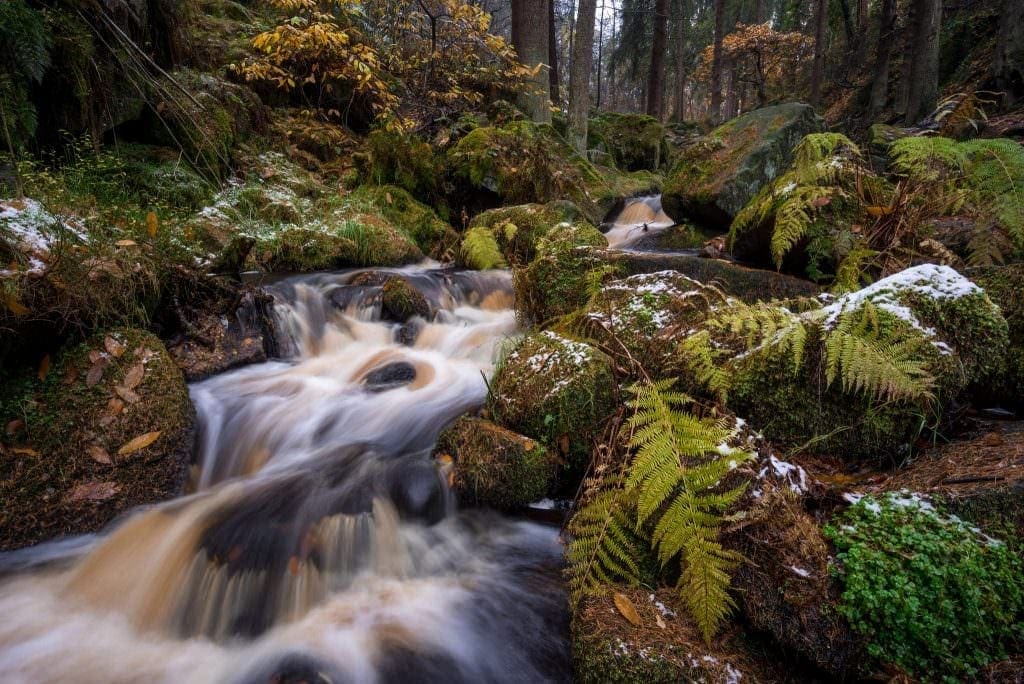 Join me on October 31st for a packed day of photographing autumn at its best in the Peak District.
Autumn becomes such a colourful time in the Peak District, with the vibrant purples of heather season long gone. Now it's the turn of yellows, oranges and reds to completely transform the landscape, giving its final hoorah before the colour is gone for winter.
The best two weeks of Autumn are typically the last week of October and the first week of November. This is when there are usually enough leaves on the trees in vibrant colours while plenty have fell to carpet the ground.
If you are interested in both workshops on this weekend they have been designed so you won't repeat locations.
To start the day, we will head to Wyming Brook, a beautiful tree lined brook filled with waterfalls and cascades. We will spend a good portion of our initial part of our day here.
After lunch, we will head up to Bole Hill to look at the amazing landscape filled with thousands of Birch Trees where you could spend hours and not have to take the same composition twice. To top it off, hunt around and you will find some of the best collections of abandoned millstones in the whole of the Peak District.
To top the day off, we will head up to Stanage Edge. This classic gritstone edge which also happens to be England's longest provides a great spot to photograph the sun going. The bracken below turns a fiery orange and the plantation of trees half way along also turn a lovely autumnal orange. Please note Stanage Edge is a small hill walk with an ascent time of around 20 minutes over a mixed path. Please ensure you are happy with this.
The light at this time of year is good throughout the day and should allow us to get some great photos.
Upon booking you will be provided with a questionnaire to fill out which is a requirement of attending. I will also provide a recommended kit list and what to bring.
We will meet at 09:00 to do a meet and greet with the other photographer's and myself before moving on to our first location.
We will break for lunch around 13:00 and if time allows, look at our images on a laptop to discuss basic processing techniques within Adobe Lightroom. The day will conclude after sunset around 17:00.
What if the weather is poor? Don't worry, unless it's torrential all day, I have plenty of locations that suit a variety of weather and with my experience, you will still get to the best locations possible and you will still get some great images, for example waterfalls are brilliant for those overcast days. As we are in the UK, we see more grey than we do yellow and I am well adapted to getting us to the best spots if we need to change itinerary. This may even include chasing the light, with my knowledge of how the weather works in certain areas and using forecasts, webcams and other tools on the day to help us make those decisions, which I will share with you. We will spend a lot of time working on technique and composition and most of the day is designed to work up until that hopeful sunset so you have the skills to get the best you can at the end of the day. So even if we don't get the weather or even that sunset you will have learnt a load of new skills, even if you are a more advanced photographer which you can take away with you and use on your next photographic outing.
Throughout the day we will look at techniques such as focusing, using a tripod, use of filters vs exposure blending, composition, working with the light and more.
I am more than happy to discuss other more advanced techniques on 1-2-1 basis as well as to the group, depending on what is beneficial.
The day is tailored around you as much as possible and I strive to give each of you on the course for that day the best day possible. At the end of the day, you will have hopefully learnt new techniques and taken away some imagery you will be proud of. I am a friendly and relaxed tutor and I welcome you to keep in touch with me after the course to ask me any questions you may have looked over on the day.
There will be a maximum group size of 4 meaning there will be plenty of 1-2-1 time. I will be on hand throughout the day for any questions and my focus will be on ensuring you have the best day possible.
Whats Included?
Technical tuition
Advice
Transport (If permitted)
Introduction to post-processing (subject to COVID restrictions)
I can also provide
What You Need
Suitable outdoor clothing (No jeans or trainers)
Camera with spare battery(s) and SD card
Walking boots
Tripod (Can also loan)
Camera manual
Food & Drink
Transport
Personal insurance if applicable
Good to have
DSLR with a selection of lenses
Remote Shutter
Filters
Difficulty Description
Below is an explanation of the difficulty for the workshop. It will also largely be dictated by your own perception and also your previous experience in this kind of environment. The rating is a rough guide and in context to the type of workshop e.g. a hill-walking workshop moderate is different to a standard day workshop moderate. I have tried to explain more about the day in the description above also.
This workshop is listed as easy. Most people should be ok to attend and complete these workshops but please read on so you can understand the terrain. Most locations will be approx. 15 minutes from the car with returns to the car between locations. However you may be covering some steep ground over mixed-terrain. Some footpaths may be paved, however please also expect natural trails of a stable surface where you may encounter natural and unavoidable features such as rocks, tree roots, mud etc. It is unlikely we will be off the beaten track and these paths will be well used and popular. Once we arrive at our photography location we may be off the main path and as such extra care must be taken with any potential hazards. I will advise if I can see any hazards and if you are unsure, please ask. On these workshops, while the locations are easy on their own, we will inevitably walk a fair distance over the course without realising and you can expect to walk anywhere between 3 and 6 miles in a day.