ISLE OF SKYE PHOTOGRAPHY WORKSHOP tour
Spend 5 days/4 nights on the beautiful Isle of Skye exploring and photographing world class locations
---
ISLE OF SKYE PHOTOGRAPHY WORKSHOP
SPEND 5 DAYS PHOTOGRAPHING THE ISLE OF SKYE INCLUDING ACCOMMODATION WITH SINGLE OCCUPANCY
7th to 11th October 2024
5 Days/4 Nights
4 People Max
Self Catering Single Occupancy
Transport Included
Easy/Moderate Difficulty ( i )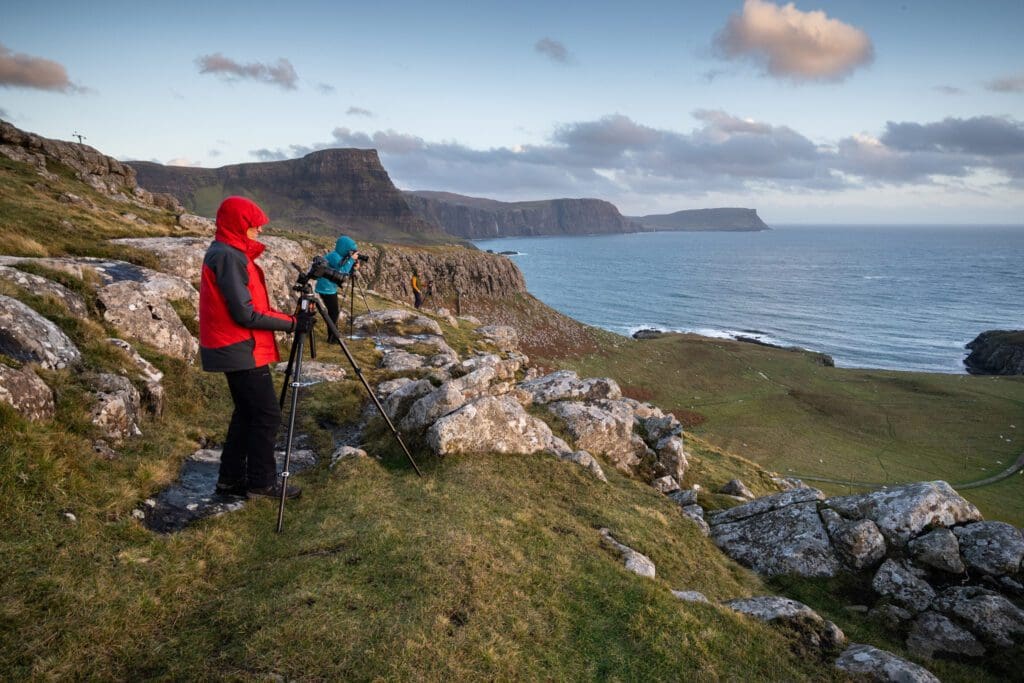 Join me on a 5-day photography workshop on the beautiful and picturesque Isle of Skye where world class landscape locations await us.
This is a fantastic opportunity to visit and photograph the beautiful misty isle. Spaces are likely to sell fast as have previous workshops over the years, please don't hesitate.
As an avid fan and lover of Skye myself, you can be confident you're in good hands with an intimate knowledge of the area having been many times over the last 12 years. I will endeavour to take you to the best spots at the best times to suit the conditions. With such a small group size you'll be sure to get plenty of 1-2-1 tuition, ensuring you learn as much as you possibly can over the week as well as enjoying your time on the beautiful misty isle.
The workshop has been chosen for this week in October as it will provide more sociable sunrise and sunset times as well as the island being much quieter than any time before it, plus the midges will have long gone. I have run many successful workshops in October with good light and conditions. If you are concerned about the weather, trust me it can be awful in summer!
The workshop has been mainly designed to head out for the golden hours, so sunrise and sunset each day. We will likely have a bit of time in the cottage during the day to cook breakfast/lunch, do a little post-processing etc. However there may be times where I tag on locations or if the weather is looking poor maybe we will be out in the day instead at a location that suits moody such as the Fairy Pools. There will be an element of flexibility required to enable us to extract the most from the workshop and I will tell you rough plans the evening before once the weather forecast is as accurate as it can be. My aim is to get you to most of the classic locations in the gallery below throughout the week.
We will be staying in a self-catering cottage a 5 minute drive from Portree to ensure we are as close to the locations as we can be. As we are in a self-catering cottage, this gives us much more flexibility to come and go as we please and also cook meals in the cottage. A certain amount of flexibility will be required as we may be out shooting during some meal times but we will discuss on a day-to-day basis. With the sunset being around 18:00, we will be back most days in plenty of time for an evening meal. If you wish to eat out, you are more than welcome to and we are just 5 minutes from the town centre. We generally tend to have a meal out on the last night to sign off the week and celebrate.
Transport is provided during the week to allow you to take in those views as we drive around the island.
There are four bedrooms and three bathrooms in the cottage, enabling you to have a room to yourself. Linen and towels are provided. If you would like to bring a partner or friend, then there is a 50% discount available for the second person to those wishing to do so and happy to share a room. There is only one opportunity for this discount as it would raise the number of participants from 3 to 4. As the accommodation is a cottage the rooms vary in size, there is a double, twin and single room available. Rooms will be handed out in order of booking to ensure fairness.
I run relaxed workshops that require flexibility. With the Scottish weather, plans can often change and I will advise on a day-by-day basis what we are to do. I aim to take you out and show you how I would work as if I was there on my own. However, I always keep personal photos to a minimum, only setting up to demonstrate my workflow once everyone is happy or if the conditions are unique.
Throughout the week we will look at basic techniques such as focusing, using a tripod, use of filters vs exposure blending, composition, working with the light and much more. We will also look at more advanced techniques as the week progresses and there will be plenty of processing sessions where we can showcase our images (if you're comfortable) to each other.
For those who have concerns for travelling on the first day, a good stop off is Fort William the day before. If you feel the drive is too long, there are trains direct to both Fort William and Inverness as well as the option of flying to Inverness. A bus service runs from both places direct to Portree. I am happy to pick up from from Broadford or Portree, depending where we meet.
This course has been listed as easy/medium difficulty but please read the itinerary closely below. Most locations are less than 15 minutes from the car except the Old Man of Storr and the Fairy Pools. If you have any health concerns, please contact me for advice prior to booking. Please also check out the photo gallery and video below so you can see some of the locations we will be visiting and what to expect from your experience.
Itinerary:
Below is a rough itinerary to give you an idea of what the trip entails. We are likely to change the order depending on the weather and light. We essentially aim to do sunrise and sunset every day but if the weather is bad, we may be out in the day for longer e.g. at The Fairy Pools.
Day 1: Meet around 13:00 at Broadford to go onwards to Elgol for sunset. We will do a quick meet and greet with everyone before heading down to the coast. We will hopefully also stop at the Hairy Loch (Loch Cill Chriosd) on the way. This gives me plenty of time to get to know you and where you are with your camera.
Day 2: Sunrise at the Quirang. Tag on Kilt Rock Waterfall and Brides Veil Falls. Sunset at Neist Point.
Day 3: Sunrise at Sligachan Bridge or Allt Dearg Mor looking towards the Cuillin. Fairy Pools during the day and sunset at Talker.
Day 4: Sunrise on the Old Man of Storr. A tough walk for sunrise, but well worth it for the views. This walk is the toughest of the week at around a hour long walk up often over fairly steep terrain. Please keep this in mind. It's a classic location that would be a crime to miss. If you feel it is too hard going for you, I am more than happy to take you to another local location while taking the rest of the group up. Sunset could be either Elgol or Neist again depending if we got the conditions the first time around.
Day 5: Sunrise from Loch Fada looking up to the Old Man of Storr. Head back to the cottage to debrief before checking out at 10am.
The itinerary is subject to change, usually due to weather and more suitable locations may be scouted in these instances.
There is a £400 non-refundable booking fee required to secure your place with the balance due no later than 8-weeks before the start of the workshop. I have added the ability to pay for the full workshop and balance via the website so you can pay using a credit method of your choice should you wish to do so.
Whats Included?
Technical tuition
Advice
Transport
Post-processing tutorials
Single occupancy accommodation
I can also provide (group share)
What You Need
Suitable outdoor clothing (No jeans or trainers)
Camera with spare battery(s) and SD card
Walking boots
Head Torch
Tripod (Can also loan)
Camera manual
Food & Drink
Transport to the island
Personal insurance
Good to have
A selection of lenses
Remote Shutter
Filters
Difficulty Description
Below is an explanation of the difficulty for the workshop. It will also largely be dictated by your own perception and also your previous experience in this kind of environment. The rating is a rough guide and in context to the type of workshop e.g. a hill-walking workshop moderate is different to a standard day workshop moderate. I have tried to explain more about the day in the description above also.
This workshop is listed as easy/moderate. Most locations are within 15 minutes walk with returns to the car between locations. The Storr and Fairly pools are much longer, with the Storr being the hardest at a hours walk up steep terrain. This is an optional location and we may also not do it if the weather doesn't look favourable. You may be covering some steep ground over mixed-terrain. Some footpaths may be paved, however please also expect natural trails of a stable surface where you may encounter natural and unavoidable features such as rocks, tree roots, mud etc. It is unlikely we will be off the beaten track and these paths will be well used and popular. Once we arrive at our photography location we may be off the main path and as such extra care must be taken with any potential hazards. I will advise if I can see any hazards and if you are unsure, please ask.