lake district wild camping photography workshop
Spend 2 nights wild camping in the hills and mountains of the Lake District to photograph beautiful sunrises and sunsets.
---
lAKE DISTRICT WILD CAMPING PHOTOGRAPHY WORKSHOP
WILD CAMP IN THE HILLS & MOUNTAINS OF THE LAKE DISTRICT TO CAPTURE SUNRISES AND SUNSETS OVER 3 DAYS
29th to 31st July 2022
3 Days/2 Nights
4 People Max
Limited transport provided (see description)
Loan Kit Provided If Required
Hard Difficulty ( i )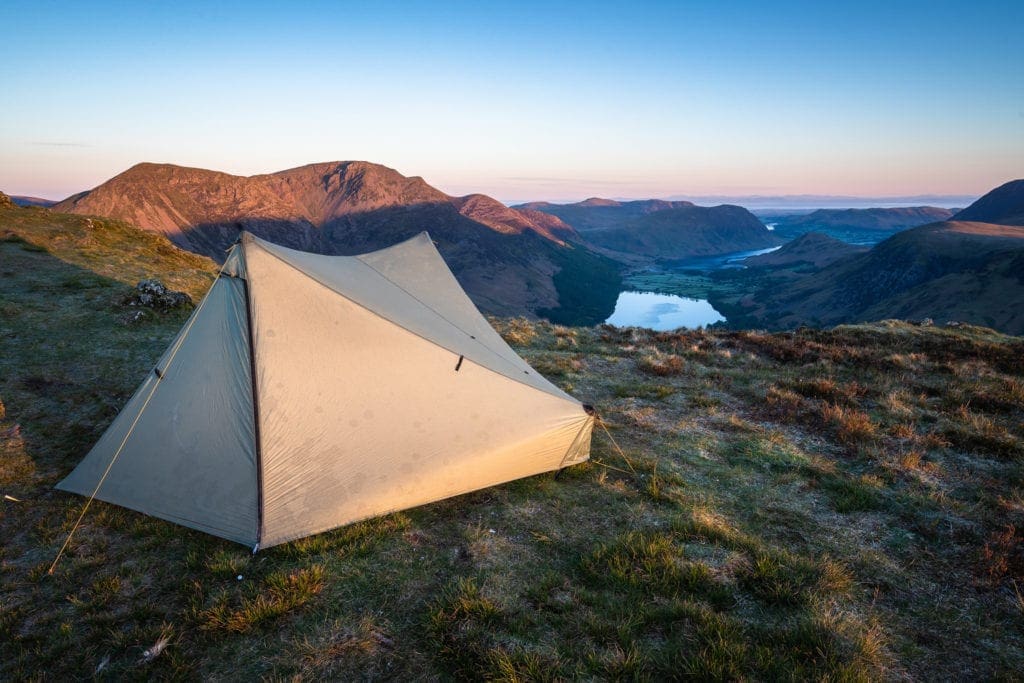 Join me for a 3-days of wild camping in the beautiful and picturesque Lake District where steep, large mountains dominate stretches of shorelines, home to England's longest and deepest lakes.
This challenging but rewarding adventure workshop will see you push your photography boundaries, camping high in the mountains to capture scenes at sunrise and sunset that most will never witness. This is why mountain photography is my favourite kind of photography.
You don't need to be ultra-fit to walk up the mountains and wild camp, but it's by no means easy either. You should be prepared for around a 3 mile walk up with over 2000ft of ascent per day, if not more, carrying up to 20kg in your bag. This however is part of the fun and allure, it becomes more than photography, it becomes an experience, an adventure and if the light comes, the effort is rewarded and you'll wonder why you never done this before.
Because of this you will be expected to be of above average fitness and you will have preferably already got some hill-walking experience or an understanding of the type of terrain we may encounter.
Upon booking you will be provided with a questionnaire to fill out which is a requirement of attending. I will also provide a recommended kit list and what to bring.
In terms of camping, it's not that much different in terms of hardship than camping on a site. You are just rewarded with much better views high in the mountains! We will only need to think about extra's like taking enough food & water for the trip and ensuring we are equipped for the weather.
We will meet on Friday and choose a camp based on the weather. I like to try and do an easier camp for the first day if possible to break people in gently, allowing more time for photography as well. However, if the weather is more favourable on the first day then we may go higher. I will let you know my thoughts a couple of days before the workshop when a more accurate forecast is in place.
After the first camp and hopefully some amazing conditions we will return to the cars and grab some R&R. Usually after the first day people are sufficiently tired and are in need of some chill and proper food, so we take a couple of hours break before climbing our second mountain which means we will be as rested as we can be for the ascent.
Again, we will hopefully photograph both sunset and sunrise. On the Sunday we will come down after breakfast and return to the cars with potentially a debrief in a cafe. Usually we are done for 12:00 midday on the Sunday to allow those who have travelled far enough time to get home to return to the real world on the Monday.
While I am not set on locations, some of the places we may visit are:
Blencathra
Haystacks
Three Tarns/Bowfell
Old Man of Coniston
Fleetwith Pike
Plus more
Throughout the workshop we will look at techniques such as focusing, use of filters vs exposure blending, composition, working with the light and more. However, being an experience based workshop we will also look at how to get up mountains, best practices, how to and where to pitch and wild camping etiquette.
I am more than happy to discuss other more advanced techniques on 1-2-1 basis as well as to the group, depending on what is beneficial.
The workshop is tailored around you as much as possible and I strive to give each of you the most attention I can to help you achieve what you wish to. At the end of the course, you will have hopefully learnt new techniques and taken away some imagery you will be proud of. I am a friendly and relaxed tutor and I welcome you to keep in touch with me after the course to ask me any questions you may have looked over. I have also created a Facebook client area where you can keep in touch, share your photos and keep in touch with other attendees from the day.
There will be a maximum group size of 4 meaning there will be plenty of 1-2-1 time. I will be on hand throughout the weekend for any questions and my focus will be on ensuring you have the best day possible.
Loan kit can be provided for this trip if you are without yourself. This includes tent (see notes below), sleeping mat and sleeping bag. Please let me know before the course. There is a £200 deposit on any kit to cover any mis-use or damages within your control. This will be refunded at the end of the course. Please note, the tent that is provided is based on sharing (if social distancing allows) with one or more workshop members. It is a large, top-of-the-range mountain tent with plenty of room. If social distancing doesn't allow, you may have to provide your own suitable mountain tent although I do have one or two spare as well. You are welcome to use your own wild camping gear, particularly a tent if you prefer to have privacy but the tent must be up to the job of with standing mountain conditions. Please email me before booking so we can try and determine if the tent is suitable.
Transport isn't advertised in this workshop as with four wild camping bags, I just can't fit everyone in to my car. For those who are reliant on public transport I am happy to provide transport on a first-come first-served basis and then if there's any more room, others can also jump in. However please be prepared to drive your own car between locations.
Please also note, if the weather turns for the worst, we may need to rethink our options and head down to a hostel or cheap B&B. This rarely happens but we are dictated by the weather. This will not be included in the price but your safety is always my first and main concern. We will still go out regardless for sunrise and sunset and hopefully be up high where possible.
Whats Included?
Technical tuition
Advice
Loan Kit If Required
I can also provide (group share)
What You Need
Suitable outdoor clothing (No jeans or trainers)
Wild camping kit (list to be sent on booking)
Camera with spare battery(s) and SD card
Walking boots
Head Torch
Tripod (Can also loan)
Camera manual
Food & Drink
Transport
Personal insurance
Backup accommodation may be required in poor weather
Good to have
DSLR with a selection of lenses
Remote shutter
Filters
Walking poles
Difficulty Description
Below is an explanation of the difficulty for the workshop. It will also largely be dictated by your own perception and also your previous experience in this kind of environment. The rating is a rough guide and in context to the type of workshop e.g. a hill-walking workshop moderate is different to a standard day workshop moderate. I have tried to explain more about the day in the description above also.
This workshop is in the mountains. You will be expected to be of above average fitness and preferably with previous experience in the hills. You will be covering steep ground over mixed-terrain. Some footpaths may be paved, however please also expect natural trails of a stable surface where you may encounter natural and unavoidable features such as rocks, tree roots, mud etc. We will stick to well used paths and trails where possible however at times these may include grassy paths or very uneven terrain. Once we arrive at our photography location(s) we may be off the main path and as such extra care must be taken with any potential hazards. I will advise if I can see any hazards and if you are unsure, please ask. On these workshops you may be expected to walk around 6 -8 miles in a day. It is likely we will be outside of our tents at dark.