peak district heather including salt cellar and fair brook waterfall
Capture the stunning Fair Brook waterfalls surrounded by heather before heading up high to the Salt Cellar to capture an iconic scene at sunset
---
heather in the peak district photography workshop
VISIT FAIR BROOK WATERFALLS AND THEN THE ICONIC SALT CELLAR FOR SUNSET
10th August 2024
13:45 – 21:45
4 People Max
Transport provided from meeting point
Moderate Difficulty ( i )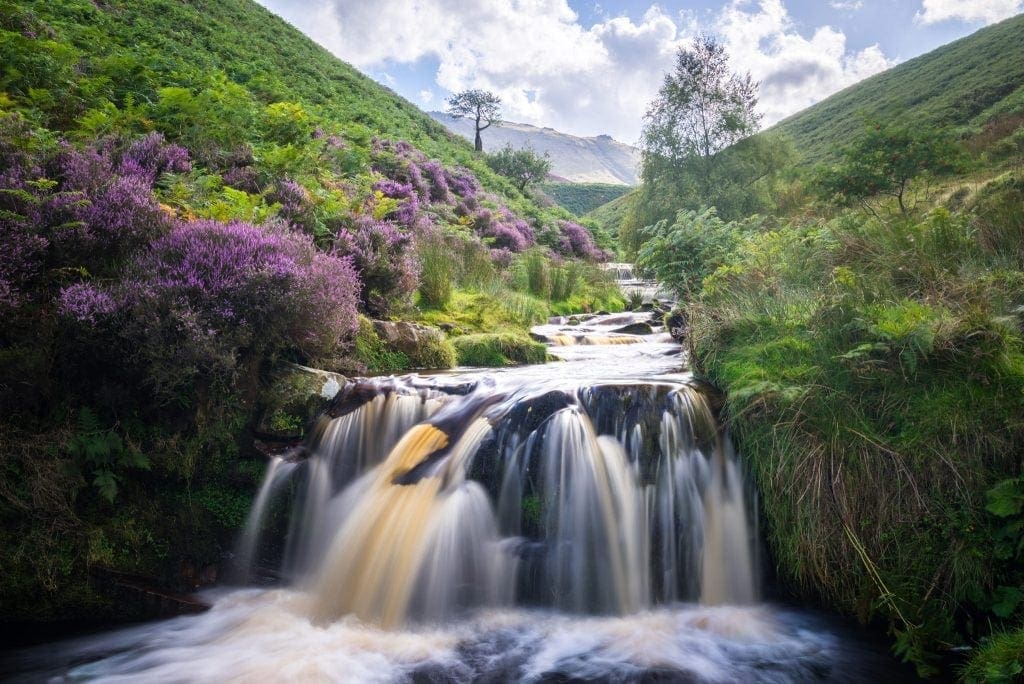 Join me on the 10th August to capture a seasonal highlight of the purple heather blooming in the Peak District. This workshop is aimed towards those who wish to walk a little further to capture some less seen but classic viewpoints.
Each year, the brown moorlands of the Peak District comes to life for roughly 3 weeks when the heather turns to a vivid purple ravishing the moors. It is a visual spectacle, with landscapes completely transformed. It becomes a photographer's paradise.
On this workshop we will look at spending a day out in the Peak District to capture the heather at its best. The first part of the day will be visiting Fair Brook which is a brook just off the Snake Pass and on the Northern side of Kinder Scout.
We will meet at 13:45 and do a meet and greet with the other photographer's to get to know each other before heading out. We will then head out up the brook in search of heather, waterfalls and mountain backdrops. Around 20-30 minutes from the car, there is a fantastic trident waterfall with a fantastic setting off all three of the aforementioned elements. The descent down is tricky but worth the effort. Here we can try out filters and long exposures. Please also note that this location is small and only two photographer's can work at a time here, so the other two clients may wish to explore while waiting for the spot.
After that we will drive over to Cuthroat Bridge which while a little less interesting offers an easy ascent onto Derwent Edge. We will walk along, passing various gritstone formations amongst the heather which we can snap on our way. We will likely stop at Lead Hill and Whinstone Lee Tor. Our ultimate location though is 2.5 miles from the car, but 100% worth the trek. It is of course, the icon of the Peak District, the Salt Cellar. We will finish off with a sunset here before returning to the car which should take around 45 minutes. We would probably get back to the car around 21:45.
As there is a fair bit of walking on this workshop, if you are a beginner in photography you may wish to book one of my other heather workshops which spends more time on camera and visits more locations. You are more than welcome to join on this workshop though if it sounds your bag and we can talk about photography and the technical side of things while walking but I just wanted you to be aware upfront that this is designed for people who may have little more knowledge with their camera but are looking to expand the distance for the locations they visit.
Upon booking you will be provided with a questionnaire to fill out which is a requirement of attending. I will also provide a recommended kit list and what to bring.
Throughout the day we will look at techniques such as focusing, using a tripod, use of filters vs exposure blending, composition, working with the light and more.
I am more than happy to discuss other more advanced techniques on 1-2-1 basis as well as to the group, depending on what is beneficial.
The day is tailored around you as much as possible and I strive to give each of you on the course for that day the best day possible. At the end of the day, you will have hopefully learnt new techniques and taken away some imagery you will be proud of. I am a friendly and relaxed tutor and I welcome you to keep in touch with me after the course to ask me any questions you may have looked over on the day. I have also created a Facebook client area where you can keep in touch, share your photos and keep in touch with other attendees from the day.
There will be a maximum group size of 4 meaning there will be plenty of 1-2-1 time. I will be on hand throughout the day for any questions and my focus will be on ensuring you have the best day possible.
There is a £40 deposit required to secure your place on this workshop with the balance due no later than 6 weeks before the workshop.
Whats Included?
Technical tuition
Advice
Transport
Introduction to post-processing
I can also provide (group share)
What You Need
Suitable outdoor clothing (No jeans or trainers)
Camera with spare battery(s) and SD card
Walking boots
Tripod (Can also loan)
Head torch
Camera manual
Food & Drink
Transport
Personal insurance
Good to have
DSLR with a selection of lenses
Remote Shutter
Filters
Difficulty Description
Below is an explanation of the difficulty for the workshop. It will also largely be dictated by your own perception and also your previous experience in this kind of environment. The rating is a rough guide and in context to the type of workshop e.g. a hill-walking workshop moderate is different to a standard day workshop moderate. I have tried to explain more about the day in the description above also.
This workshop is listed as moderate. The Salt Cellar is approx. 2.5 miles from the car and will take a hour to reach over a good path and a largely steady gradient. However you may be covering some steep ground over mixed-terrain. Some footpaths may be paved, however please also expect natural trails of a stable surface where you may encounter natural and unavoidable features such as rocks, tree roots, mud etc. It is unlikely we will be off the beaten track and these paths will be well used and popular. Once we arrive at our photography location we may be off the main path and as such extra care must be taken with any potential hazards. I will advise if I can see any hazards and if you are unsure, please ask. On these workshops you may be expected to walk around 6 miles in a day, with breaks between each location.