secret southern SNOWDONIA PHOTOGRAPHIC WALK WORKSHOP
Spend a day capturing stunning views and vistas from high up in the hills and mountains of southern Snowdonia
---
SECRET SOUTHERN SNOWDONIA PHOTOGRAPHIC WALK
VISIT QUIETER AND LESS SEEN SNOWDONIAS HILLS & MOUNTAINS
2nd October 2022
12:00 – 20:00
4 People Max
See notes for transport
Hard Difficulty ( i )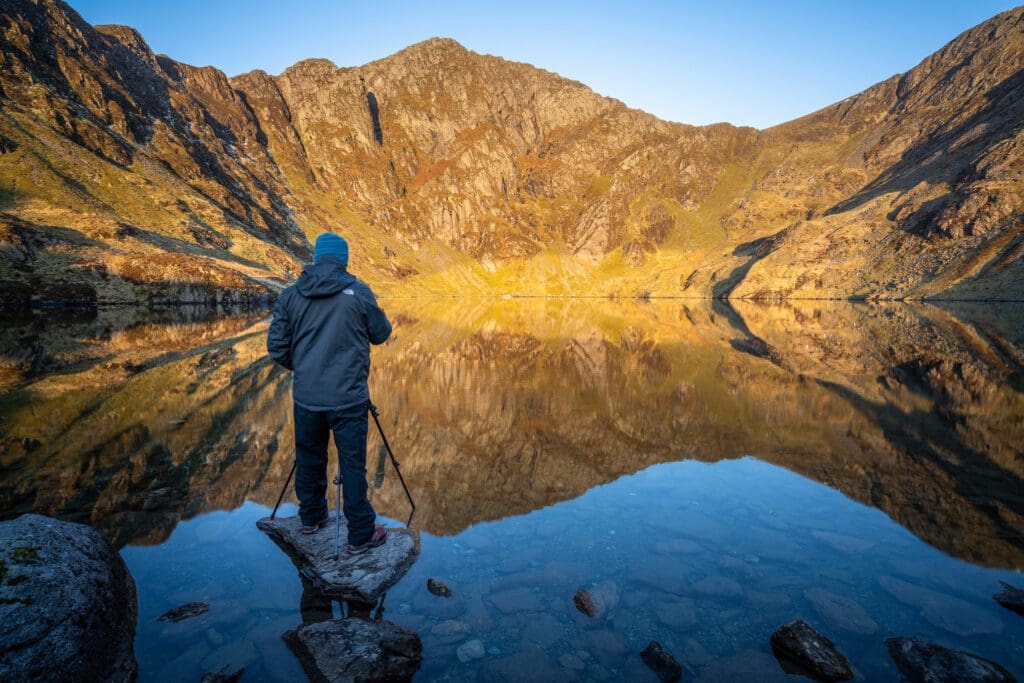 Join me on October 2nd to explore a quieter and less photographed side of Snowdonia. Capture stunning mountain scenes including a sunset from a beautiful viewpoint on either a hill or mountain.
This workshop is aimed at photographer's who are looking for a little more adventure but are perhaps not wanting to wild camp in the mountains. Instead we will walk up for sunset and return after, with a section in the dark.
The workshops main aim is to walk up a hill or mountain in Snowdonia to capture a hopefully stunning sunset and produce photography a little different to most workshops.
For the start of the day we may do a small walk to wake up the legs and let me get to know you and your camera. This could be the lovely precipice walk or potentially some of the waterfalls near Dolgellau.
Then for sunset we will aim to be up high, walking to a sunset spot somewhere in southern Snowdonia. This could be the fantastic Rhinogs (Rhinogydd) or somewhere like Cnicht. Both are fantastic spots which have probably never seen a workshop, or many tripod legs in fact!
What I aim to teach you on the day is my passion for the mountains, how to plan mountain trips, what to be aware of, some of the risks, what is involved and how to take the pictures once you are at the top.
However, my plan will be to put us in the best place for the given conditions on the day and we will stay flexible to ensure we make the most of it.
Please note you will be expected to walk at least 5 miles with around 3000ft of ascent. It is advisable you have some prior hill-walking experience or have an above average fitness, particularly to understand what you will be undertaking. We are also expecting to walk down after sunset so it will be dark for part of the way and you must be comfortable walking in mountainous terrain in the dark. I aim to choose a route that takes no longer than a hour to walk down from, allowing us to use mainly twilight but please be aware it could fall dark and you must be comfortable with this.
Transport isn't advertised, I may be in a vehicle which doesn't have the seats to provide so there may be a small amount of driving between locations. If however I am in a normal car, I am also happy to provide transport all the same.
Upon booking you will be provided with a questionnaire to fill out which is a requirement of attending. I will also provide a recommended kit list and what to bring. Please pay particular attention to required equipment as a certain level of appropriate gear is expected. The list won't be conclusive but aimed to give you the best guidelines possible. Please take a common sense approach to your packing, for example I suggest 2l of water but you may know from experience you need more or less. Please contact me if you are unsure and I will try and advise you the best I can.
Photographically throughout the day we will look at techniques such as focusing, using a tripod, use of filters vs exposure blending, composition, working with the light and more.
The finish time has been noted for 20:00 which gives us a hour to walk down after sunset but please allow for this to over-run depending on how the group moves together.
I am more than happy to discuss other more advanced techniques on 1-2-1 basis as well as to the group, depending on what is beneficial.
The day is tailored around you as much as possible and I strive to give each of you on the course for that day the best day possible. At the end of the day, you will have hopefully learnt new techniques and taken away some imagery you will be proud of. I am a friendly and relaxed tutor and I welcome you to keep in touch with me after the course to ask me any questions you may have looked over on the day. I have also created a Facebook client area where you can keep in touch, share your photos and keep in touch with other attendees from the day.
There will be a maximum group size of 4 meaning there will be plenty of 1-2-1 time. I will be on hand throughout the day for any questions and my focus will be on ensuring you have the best day possible.
Please note you will need a head torch.
Whats Included?
Technical tuition
Advice
Transport (If permitted)
Introduction to post-processing (subject to COVID restrictions)
I can also provide
What You Need
Suitable outdoor clothing (No jeans or trainers)
Camera with spare battery(s) and SD card
Walking boots
Tripod (Can also loan)
Camera manual
Food & Drink
Transport
Personal insurance if applicable
Good to have
DSLR with a selection of lenses
Remote Shutter
Filters
Difficulty Description
Below is an explanation of the difficulty for the workshop. It will also largely be dictated by your own perception and also your previous experience in this kind of environment. The rating is a rough guide and in context to the type of workshop e.g. a hill-walking workshop moderate is different to a standard day workshop moderate. I have tried to explain more about the day in the description above also.
This workshop is a photographic walk in the mountains. You will be expected to be of above average fitness and preferably with previous experience in the hills. You will be covering steep ground over mixed-terrain. Some footpaths may be paved, however please also expect natural trails of a stable surface where you may encounter natural and unavoidable features such as rocks, tree roots, mud etc. We will stick to well used paths and trails where possible however at times these may include grassy paths or very uneven terrain. Once we arrive at our photography location(s) we may be off the main path and as such extra care must be taken with any potential hazards. I will advise if I can see any hazards and if you are unsure, please ask. On these workshops you may be expected to walk around 6 -8 miles in a day. It is likely we will complete a large section of our return in the dark.