So it's now December and I think I can officially say Autumn is at an end. It's been quite a strange one this year and I have seen a lot of people saying it's the best Autumn for many years, some claiming a decade!
I'm not quite sure I agree with that. First off, Autumn came very, very late this year and when it did, the leaves turned slowly. The trouble was some of the early trees such as Birch lost their leaves very quickly while many others were very green even into November. I think the late Autumn was down to mild and sometimes even hot conditions in October. Even at the end of October I was leading a workshop in my t-shirt! What has been welcome though is the cold snaps we seem to be enjoying recently, especially the relatively early snow. I hope we're in for a good winter.
The colours didn't seem quite as vibrant to me this year either. It might have been the lack of rain in particular as so many locations were dry and not glistening, especially in places such as Padley Gorge.
All that said, I still tried to make the most of what I could and I thought I'd share some of the images from the season with you.
First off we have Padley Gorge, I headed here on a workshop with Richard and got totally engrossed in photographing the cascades, especially finding the swirl pools. Oh and of course, that tree and millstone!
Next we move on to Stanage Edge. I initially had intended on going to Carhead Rocks with a promising sky looking like it would light up, but chasing the clouds and light had me move onto Stanage. It eventually cleared up which was frustrating but I still managed to get enough detail in the sky with a new composition from here. The autumn colours in the bracken and plantation were awesome.
Now onto my favourite shoot of this Autumn. These shots are from Abbey Bank above Derwent and Howden Reservoirs. I had tried shooting this area before and been meaning to revisit for a while. The first shot I really rather like because of the light filtering through the trees, really illuminating the colours and also being able to see the rain passing by in the photo. It didn't seem to go down too well on social media, but for me I still like it. It's also a shot I perhaps wouldn't usually take, not only did I crop the 3:2 ratio to a panoramic one out of one image, I also took it handheld for fear of losing the light or not getting any later on.
The next image is the one I went to take. Abbey Bank overlooks Howden Dam surrounded by Autumn colours. If lucky, the dam will be in overflow really adding to the scene. Unfortunately, after a rather dry October and start of November (until the day I went!) I had no such luck. Luck was on my side in another way though and a rainbow broke out just as I got to the top of the hill. These really are some of my favourite types of conditions.
Next was my final official workshop to focus on autumn colours in the Peak District and I headed out with Ronald. We started off bright and early at Lumsdale and it was a good opportunity to retake an old composition of the central falls. The colours at this point were really good but still plenty of green on the trees above. It was the 6th November!
We then went to Ladybower and the Derwent East Side Walk to see what we could find. The light kept coming and going, testing us but we ended up spending some time up in some woodlands where the Beech leaves lying on the floor looked great.
Next I had a decision to make. I had previously suggested Lead Hill on Derwent Edge or Bamford Edge for sunset but reading the weather and looking at satellite imagery it looked like it was closing in. I looked over towards Stanage and while only a couple of miles away there seemed to be breaks and the radars agreed. We made a dash for it and in all were well rewarded with some great light, autumnal colours and the first signs of snow.
It's always good when you manage to call conditions and actually get some light on a workshop. As you can see from the last picture, towards Ladybower was totally clagged in. No rest for the wicked though and the next day saw me up early and heading up to the Yorkshire Dales to meet David Speight Photography. I had wanted to visit more Yorkshire Dales locations and we also wanted to plan our next joint workshop together which you can see here.
We spent a day visiting classic and new locations and the onset of winter was really apparent. Autumn colour still in full force at Scalebar Force though:
We finished the day off with a sunset walking along Southerscale Scars to Raven Scar. Always good to photograph limestone pavements and there was some epic light and clouds, unfortunately we weren't in quite the best spot, with it being selective, picking out distant hills.
Not really autumnal, just a slight hint, but I thought it worth sharing this image from Parson's Tor in Lathkill Dale with you. I hadn't been out for sunrise for a little while and made the effort. I was disheartened at first with clear skies but thankfully a little cloud rolled in at the last minute.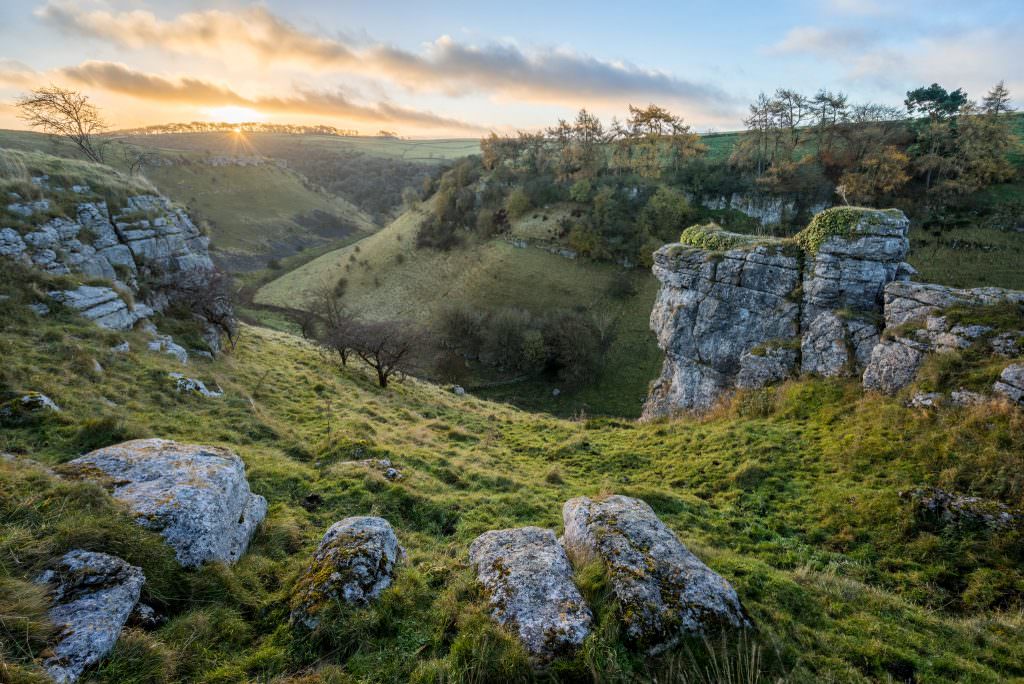 The last images were from another workshop, this time with Steve. It hadn't intended on being an autumnal workshop but with it still holding its grasp in the third week of November we thought we would make the most of it. We started off with a great sunrise on Curbar Edge and headed to Wyming Brook after breakfast in Hathersage. Getting to Wyming Brook would turn out to be fun with heavy snow across the moorlands making driving tricky to say the least. After a diversion to the A57 entrance we finally got there. It was strange, snow, autumn leaves and green ferns left over from summer all in one scene!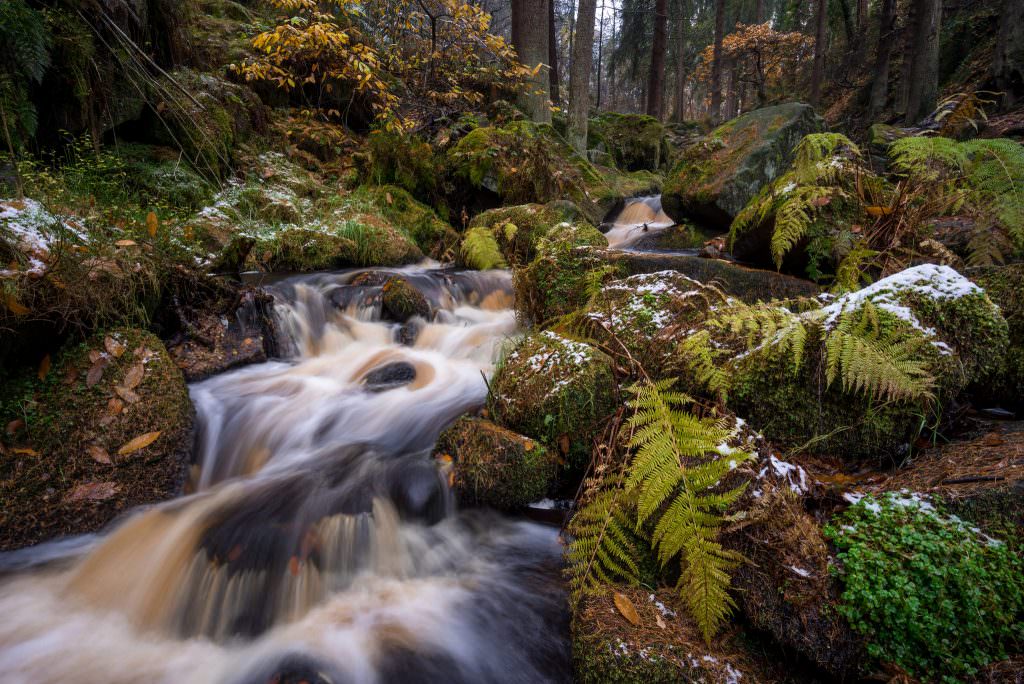 We then went to Derwent Edge for sunset. Both already quite tired from an exhausting day we pushed on with promising conditions and snow on the higher ground. We finished up at Whinstone Lee Tor and waited it out. We were well rewarded for our efforts with great light, stormy clouds and a mixture of snow and the last of the autumn colours gripping on in the trees surrounding Ladybower. The perfect way to see out Autumn and welcome winter.
Thanks for reading. Have a great winter and I hope you get some amazing photos and conditions!