I have been certified as "Good to Go" by VisitBritain by ensuring my landscape photography workshops will be run in line with current government guidelines ensuring you have the best day possible. Click the image to see the certificate in full.
UPDATE Jan 2021: Workshops have now been cancelled until at least March 2021 pending review from government regarding lockdown in mid-February.
I am delighted to be able to offer group & 1-2-1 workshops in both the Peak District. All workshops going forward will be with social distancing in place. I have already successfully run a number of workshops, both group and 1-2-1 since resuming in July and they have all been very smooth with safety of the upmost importance while maintaining a fun and informative day.
Because your safety as well as my own is important, there will be a few requirements for the workshops to run smoothly and some of these will mean they will run differently to how my days would usually run. All these requirements will mean we get to return to a little normality in a beautiful part of the world and have some fun while remaining safe.
I have put together a set of COVID-19 T&C's which you can view by clicking the link. These will be required to be signed upon booking. The T&C's are put together to help protect everyone while still having a genuinely good day out. They may change in line with government guidelines and you will be notified on the day of any changes. If you are not comfortable with the new changes, we will revert to the previous T&C's.
Book in confidence. Your safety and preventing the spread of the virus is of upmost importance while still providing a fun day out where we can regain a little normality in one of the most beautiful parts of the country. If a workshop is postponed or cancelled then you will be offered an alternative date to suit or a credit towards another workshop.
If you are in a local lockdown, you have 7 days before the workshop to notify me to move your booking with no further questions asked. If your area is starting to look like it may move into a local lockdown, please inform me with plenty of time to allow me to be flexible with your booking. I completely understand the situation we are currently in and want to be as flexible and fair to everyone as possible. Please note, Derbyshire is currently Tier 3 and advise is not to travel to Tier 3 areas if you are from a lower Tier. However, we will be in the outdoors keeping contact with others to a minimum and I envisage it being much safer than a trip to your local shops. The guidance is also just advice and not law, so please be aware you can attend legally but you must also feel comfortable to do so.

LANDSCAPE PHOTOGRAPHY WORKSHOPS & TUITION
Tailored 1-2-1 tuition (with discounts for extra people).

Small group, themed workshops.

Workshops also offered throughout the UK and worldwide.

Full day workshops (8 hours approx).

Introduction to post-processing session included. (Currently excluded due to COVID-19 restrictions).

Intimate knowledge from Amazon's highest rated Peak District publication author – Peak District Through The Lens.
Workshops for all abilities, both technical and physical.

Explore beautiful landscapes.

Classic viewpoints to hidden gems.

Adventurous wild camping & photography experiences available.

From beginner to amateur, improve your photography.

Prices from just £125 per person.

Gift vouchers available.

Over 100 five-star reviews.
Why Choose Me?
I am an avid lover of the hills and mountains with a passion for capturing moments of time in these epic places. I want to share this passion with you and I will help you discover new places and improve your landscape photography at the same time. I offer both 1-2-1 tailored photography tuition and themed, small group landscape photography workshops.
Join me on one of my Peak District photography workshops and you'll be in the hands of the author of Peak District Through The Lens which is the highest rated Peak District publication on Amazon with over 80 five star reviews. This ensures you will be in the best hands possible, with a guide who has a truly intimate knowledge of the area, helping you find the best compositions and the best light available on the day.
I also run regular day workshops in Snowdonia with a more mountain focussed approach to try and get you up high, providing an experience of both photography and what the mountains can offer.
I've also been exploring the hills, mountains and coast away from the Peak District for years and I regularly offer workshops throughout the UK. These workshops are over multiple days to make the most of our time up there. Having visited and photographed them for years, my knowledge is reliable to help you get the best results possible. The most popular of these is my 4 night residential workshop on the beautiful Isle of Skye which run at least twice a year, regularly selling out fast.
Are you looking for more adventure? Then why not join me on a wild camping workshop to really take your photography to the next level? We will spend a night in the hills or mountains allowing us to capture sights most will not see at sunset and sunrise. I offer these workshops in the Peak District, Snowdonia and the Lake District.
On all workshops we will look at exploring subjects such as composition, camera technique, working with the light, use of filters, exposure blending, how to focus and much more. Transport to locations will be provided by me from a meeting place, so you can relax and take in the surroundings of our beautiful area.
If you would like to book any of the workshops, please click any of the images below then add the relevant option to your basket. Booking for someone else? I also offer vouchers so your recipient can choose a course at their leisure. For any further enquiries including dates availability, please contact me using the contact form.
Finally, to be kept up to date with future workshops, you can sign up to my mailing list here.

Full review can be found here: Review – I was amazed at his wealth of knowledge of the Peak District and I soon realized he knew the area like the back of his hand" – "I thoroughly enjoyed the day learning new skills
Just attended my first photography workshop with James at the stunning Saddleworth Moor in the Peak District. I was slightly apprehensive because I am relatively new to landscape photography, but I need not have worried. James is a great host and very reassuring.

He is extremely knowledgable and was only too willing to answer questions from the basics to the advanced. I personally learned so much from James about composition and focusing techniques that I cannot wait to on more of James workshops and develop my technique. His choice of location was excellent and his in depth knowledge of the area ensured we maximised our time at the right locations and the right times.

James is also a Kase filters ambassador and I have just purchased a set myself, so his tutoring ensured I quickly mastered their use and captured some of the best photos I have ever taken.

Great experience and would highly recommend.

Mark
I attended James' Skye workshop in Nov 2018 and can't recommend James highly enough. He clearly loves the place and has a great knowledge of the locations as well as the best conditions and light to visit them in. He has a relaxed, patient approach and is very generous with his photographic knowledge and experience. I was particularly impressed that he rarely got his own camera out, he was focussed on helping us improve our skills rather than making his own shots. The small group size meant that James was able to give each of us plenty of his time. All in all it was a great workshop, despite some very Scottish weather.
I have just enjoyed James's trip to Skye. Although I have a few physical limits I was well catered for. My son accompanied me, he is well experienced as a hillwalker and photographer, and thoroughly enjoyed the trip whilst keeping an eye on me!

This was my second trip with James, I have found him to be a gifted photographer who is prepared to share his knowledge with other aspiring photographers whatever their level of expertise.

After this week's workshop I have come away with a better understanding of my camera and a rekindled love of photography.
I was concerned that as I have a disability heading into the Peak District for a workshop with James might prove somewhat challenging. Hoewever the weekend surpassed my expectations. Despite freezing winds and permanent flat gray skies James had organised an amazing amount of venues that were accessible for me to reach and photograph. James skills and generosity in sharing his knowledge of landscape photography will serve me well in the future. I am delighted with what I have learnt.

However none of this would have been possible if James and his partner Sarah had not given me a massive amount of support to enable me to reach the destinations and get home in much the same way that I arrived.

I look forward to editing my images knowing they will never having the most exciting light given the worst possible weather conditions for photography but happy in the knowledge that my photography has improved way beyond my expectation.

I will be coming back for more and hope that next time the weather will be more inviting.
I had the pleasure of joining James on a wildcamp workshop to Snowdon. The weather was terrible but thankfully the company was not as James made the whole experience very enjoyable. Plan A, B, C and D were all but torn apart thanks to the constant changing conditions but this never appeared to fluster James and he always had an option that was suitable for both photography and camping. James was a pleasure to chat with along the walks and is of course very skilled with a camera so there is plenty of advice available should you need it when the camera comes out. Overall a great workshop and I really hope to join another in the near future.
I highly recommend James' Workshop. James is a very knowledgeable and enthusiastic tutor. He was very patient with me and taught me a lot about landscape photography, giving me more confidence using my camera. An informative day.
James certainly knew his stuff,very open and approachable very patient. I learnt a lot from him about technique and composition.I would definitely recommend his workshops.
I joined James for a day workshop in the southern Peak District which I thoroughly enjoyed. I returned happy and weary after a full day during which James wss both informative and patient. I felt that he shared his time evenly amongst the three participants and I'm sure we all came away knowing more than when we started, I certainly did .
Overall I can recommend James' workshops to photographers of all levels . I think anyone with an interest in photography would find them educational and excellent value.
Had a great day out on one of James's workshops in the Peak District. He limits attendees to 4 so therefore he has plenty of time to give each individual attention. I gained a lot from the knowledge he imparted to us and hope to build on it and improve my photography. Highly recommended.
Really enjoyed the day with James. We visited 4 different locations and had some time for a session on Lightroom processing ! James is really knowledgeable and passionate about photography and has a very open and relaxed approach to teaching students. Got loads from the day and would recommend it to people of all levels of experience.
I joined James for his Peak District, day workshop, and couldn't have been more happy with it. Thoroughly enjoyed the day, learnt more than I could have hoped for and took some cracking photos that I don't believe I would have been able to see beforehand. The short pit stop in a pub to briefly go through lightroom was unexpected, helpful and very welcome. James himself was a very patient, approachable and knowledgable guy. I would highly recommend his workshops to anyone interested in advancing their photography.
Spent 4 days on a landscape workshop with James Grant. Learned lots of stuff particulary composition, histograms & use of filters. Really enjoyed Skye & the course James is very knowledgeable & explains things in an easy to understand manner. Would definitely recommend him to anyone wanting to learn landscape photography.
I have just been on my second Photography Workshop with James …he has helped me to use and understand Manual Exposure and Manual Focussing.Good tips on customising my camera.
His workshops are great because of his small groups and he is always on hand to offer his advice and in depth knowledge of all things photography.
Looking forward to my next Photography Workshop with James in
November in Skye.
My wife bought me a Wild Camping experience with James as a birthday treat. James was brilliant throughout the day… and night! The weather took an unexpected turn for the worse and meant photography became a little tricky to say the least. James took time out to spend the following morning with me, going over some landscape photography techniques at an alternative location. James didn't need to do this. It goes to show he's a great guy who cares about his customers.
My second workshop with James and I throughly enjoyed it. I consolidated what I learnt from my first workshop and could check back with James anything I was unsure of. I had invested in some filters since the first workshop and he showed me how to get the best from them.
Also he has great areas planned out for hiking and unique photography spots that you probably wouldn't sort out yourself. It doesn't just stop at the end of the day, James is great for follow up and is happy to help with any questions.
James has a comprehensive knowledge of photographic opportunities around the Peak District, having written a book on the subject. On a course he took us to a number of locations, many of which I had not been before, selected for the weather and time of day. Throughout he was attentive and helpful, offering advice while letting us work at our own pace. Recommended .
I recently spent three days on a workshop in the Peak District with James and had an awesome time. James is incredibly knowledgeable about landscape photography and the location itself. He is an excellent teacher, whose enthusiasm comes through. I learned a lot from James and will definitely be visiting the Peak District again with his book in hand.
I was given a voucher to use on one of James's workshop for my retirement and chose the Fair Brook and Salt Cellar event on the 17th August. Although a keen photographer for many years, landscape photography had passed me by and was missing from my portfolio. I had a particular interest in taking pictures of waterways and waterfalls which was why this workshop appealed to me and it didn't fail to deliver. Unfortunately as the day went on the weather closed in and we decided to cut short the trip to the Salt Cellar but hey ho thats the english weather for you. Even so James made sure we got some excellent shots of Waterfalls, Ladybrook Reservoir and Whinstone Lee Tor. Overall it was a great day and I was really surprised by how much I learnt which is a testament to the knowledge and experience of James. I'd definitely recommend this workshop and look forward to going back for other ones in the future.
My husband and I attended the 5 day Skye workshop in April 2017. It was a great, memorable experience., and we both came back much more clued-up about landscape photography and wanting to do more. James is a really good teacher and knew where all the best spots were in Skye. I don't think there was a weather condition we did not experience – we had sun, rain, strong winds and blizzards but still came away with some lovely shots. I would thoroughly recommend his workshops to anyone interested in landscape photography.
I went on James' peak district winter workshop. I am a complete beginner to photography (as in only had my camera for 2 weeks) so was a bit nervous that I would be out of my depth. However James was very friendly and helped me get to grips with my camera.
I really enjoyed the day. I learnt a lot, got to explore some new places and came away with some nice shots.
I would definitely recommend his workshops. I feel so much more confident now. And as an added bonus we got a copy of his ebook. I have already used it to get some pictures around Ladybower and can't wait t explore more.
We had a great day out with James despite some less than ideal weather. He managed to find some locations that worked even in poor light and was helpful and attentive throughout the day. I have been on a number of photo workshops and this was amongst the best with James always happy to make constructive and helpful comments and advice.
Had a great time on James workshop today, as he turned the day into an unforgettable experience of blizzards and sunshine! James was patient, spent plenty of time with all of us on the workshop and I came away with a much better understanding of my camera settings for landscape shots aswell as some great tips on editing on my landscape images in Lightroom.
I would highly recommend signing up for one of his workshop days…in fact I m going on another one next month
I did a 121 workshop with James last week. James answered all my emails regarding the finer details of the trip very quickly. I met him at his home address and left my car there whilst he chauffeured me around in his car. He spent time with me explaining settings for my camera and took me to several locations to practice landscape shots which I had rarely done before. The day was very overcast but he took me to locations which were easily accessible and I could practice my techniques. He was very knowledgeable and helped me tremendously with the right workflow. He showed me the best way to get the right composition despite the very flat light that was available due to the weather. He even went through his workflow with Lightroom whilst we had a tasty meal at a local pub in Matlock. I had an enjoyable and very useful day thanks to James knowledge. I would highly recommend James workshops to anyone wanting to learn more about landscape photography. Thanks James
I recently went on the rugged south west Peak District workshop on Saturday with James. The weather wasn't on our side but James still took us to numerous locations to photograph. He was patient with all the participants and happy to share his knowledge, I'm already planning the next workshop. I have viewed my photographs from the day and can see the difference in them following his teaching. thank you.
A great day out. We visited multiple beautiful locations and James offered advice at each location – making constructive suggestions and pointing out some of my auto-pilot bad habits as well as suggestions for improvement – both practical while out using the camera and for processing the images later.
Two of us ventured north for one of James' one-day workshops in the glorious Peak District. It was an excellent day and I learnt a lot. Even the uncooperative sunset seemed a fitting lesson that you don't always get the photo you wait for. Seriously recommended.
A friend and I attended James's Peak District workshop on 7th April – lunch time through to sunset.

The day was fantastic value for money, 8 hours tuition from an outstanding landscape photographer with plenty of 121 time (he limits his workshops to ensure this, there were 4 on ours). James's mentoring style is easy to follow and jargon free.

He has an outstanding knowledge of the Peak District enabling him to take us to the best locations, suggest compositions to get us started and adapt the day when the good old British weather decided not to play ball!

I'm absolutely delighted with some of the images I captured on the workshop that I don't think would have been possible without James's invaluable, expert guidance. I had the opportunity to learn new skills and James gave me lots of tips and tricks to get the best out of my equipment and the learning will enable me to progress my landscape photography.

Thanks again James. I'll definitely be back up to the Peak District soon for another of your workshops.
Excellent tuition and choice of location, thoroughly enjoyable day and choice of gift from my kids!

If you're a hill walker wanting to try photography this is the course for you! If, like me, you're just a photographer then you might want to get your fitness levels up first! Or it could just be that accountancy doesn't prepare you for the roaches!
I attended James' workshop in the Chrome Hill and Parkhouse Hill area on the 12th May. James had used his experience to plot a route that took in some of the best viewpoints in the area and gave us a variety of scenes to photograph (bluebells, limestone pavements, panoramas).
I consider myself to be quite knowledgeable on photography, but James was able to show me tips and tweaks to make a big difference to my shots; an adjustment in elevation, or a tweak of the zoom for instance making a huge difference.
He was also able to show me some camera shortcuts I was not aware of and techniques to make the best of the moment, allowing me to concentrate on capturing the best photos, rather than fiddling with camera settings, or relying on the camera to make the right decisions.
I'm now planning to join another of James' workshops later in the year.
I had a great day on Jame's Rugged South-West Peak District workshop last Saturday – unfortunately the weather was against us, so we didn't visit the rugged locations until later in the day, but James found excellent alternatives. He is very generous with his knowledge and teaching, and tutors each participant individually, according to their skill level and equipment, and I learned a lot. Weather notwithstanding (who doesn't love British weather?!!!) it was an excellent day, and I'm already looking forward to another workshop with James.
I have been on two of James' workshops, one to Saddleworth Moor and the other Crome Hill. Its nice to go on two workshops to confirm what you had been learning on the first and practice in-between. James is easy-going, making sure the four participants on the workshop get the help they need. He is very knowledgeable about the Peak District and other locations like Scotland and happy to share this with you, as well as any questions after the workshop. His book is a complete guide with parking, access, photo locations, maps to many locations over the Peak District – Peak District through The Lens.
James is patient and generous with is knowledge. He adjusts his teaching to the level of the student and is keen that students come away feeling that they have gained from the workshop. I will be using his advice in my future photography.
I spent a very windy day recently at one of James workshops! Even with the wind it was a great session. James was very patient and certainly taught me a number of things on how to use my Camera better. A very enjoyable day.
In October I joined James for 3 days on his wild-camping course in the Lake District, an amazing and unforgettable experience. I have never done landscape photography before, combine this with wild camping, 3.5 mile hikes up mountains to chase the sunset; I doubt you'd forget either!
Learning the correct settings of the camera was the simplest part, this course is a real test of your endurance and patience, but the final results are incredible. Never before have I appreciated a final image so much, knowing what went in to it!
James himself is amazing; he helped make sure I had everything that I needed to survive. Everything he suggested I brought, I used.
I look forward to joining you on another wild camping course in the future!
On August the 11th I attended the workshop 'Heather in the Peak District' given by James Grant (Photography).

Although the weather was not that good (wind and rain) it was great fun.

First we went to Fairbrook (waterfall) and later on to Derwent Edge (Salt Cellar).

The group was small (4 persons) and therefore personal attention for a greater learning experience was guaranteed.

James handed out really useful tips; he is very knowledgeable in photography.

If you are serious with landscape photography I would certainly recommend this workshop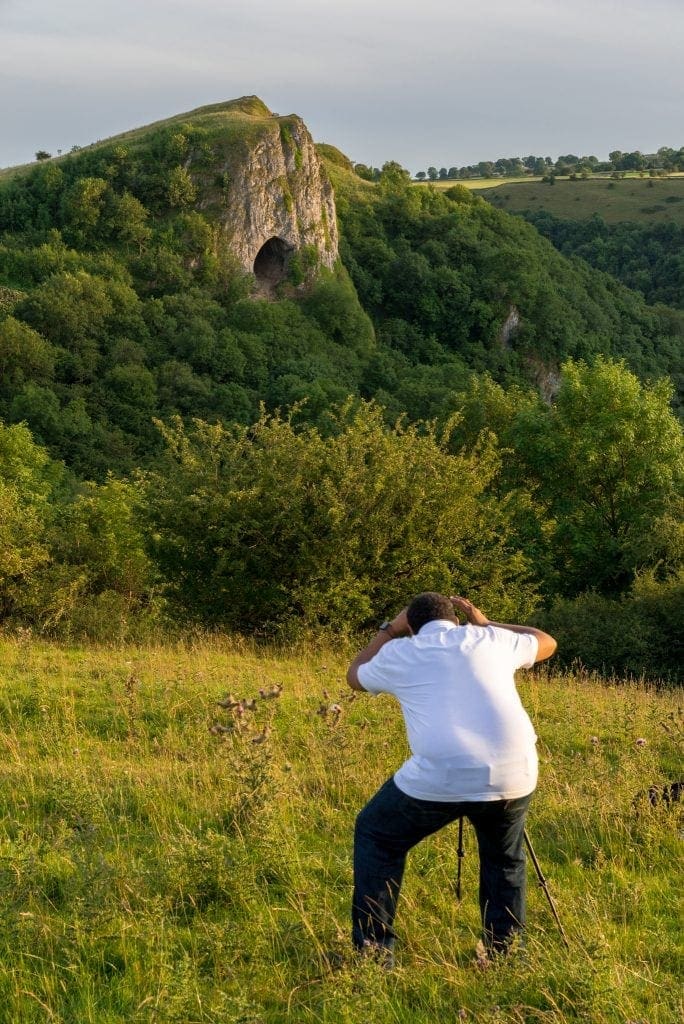 Had a great day with James.
He has an excellent knowledge of the local area and his landscape photography skills are second to none. With the knowledge I gained on the day, I managed to take my photography to the next level.
I can most definitely recommend him.
May last year, I'd spent 2 weeks in the Peak District with James' "Through the Lens" as our guide.  Since I was curious to explore this region once during autumn, I decided to participate to some of James' workshops.  Having to travel from Belgium to the Peak, I was looking to combine a few workshops to maximize the benefit from my trip.  So I booked a 1-2-1 workshop on November 2nd and 2 successive workshops on November 3rd and 4th.  I should have preferred to invert the order so that during the 1-2-1 we could have worked on my weak points that James would find during the group workshops, but my agenda didn't allow me returning later than Sunday.

When finally looking back at my 3 days with James, this last reflection doesn't make any sense anymore.  He felt quite rapidly on what we had to work, and since the group size for the 2 workshops was really small (2 & 3 participants), it was like having 3 days a 1-2-1 with him.  So after this 3, very intensive, days I could return with plenty of marvellous pictures and a lot more insight on the topics I could discus with him.
My second workshop having booked on the workshop after my enjoyable one in January. As I was the only attendee the workshop was really relaxed and James worked with me to get the most from the workshop I could, unfortunately the weather wasn't in our favour for the sunset and James was more than happy to stay out to the allotted time, but as I had such a great couple of hours before I didn't need to see any more. I would highly recommend James to anyone, he is great at demonstrating what he means and doesn't make you feel stupid. Even if he tells me off for abusing my lenses :)
James Grant is a superb landscape photographer with a passion and detailed knowledge of the countryside he loves including the Peak District. He is also a standout tutor willing to share his photographic know-how freely with his clients.

I was fortunate enough to attend my first photographic workshop with him recently in the Peak District and came away truly inspired. James is very approachable, patient, helpful and willing to demonstrate how to get the best results through,for example; choice of location, attention to weather/cloud detail, best positioning in relation to sunlight, composition, setting-up of camera, best use of filters and equipment and post processing techniques to name a few. He goes the extra mile and even gave us all access to his wonderful book 'Peak District Through The Lens' which apart from being a stunning portfolio of his work, also contains really useful information about photography in general and photographing the Peak District.

There was a nice buzz about the group (4 of us), everybody got on and all I can say is I am so glad I did this workshop and I recommend it to anyone seriously interested in photography and/or who loves the outdoors. Thanks James!! 5 Stars !!
As a complete landscape novice I wanted to develop my skills and attending a one day workshop with James proved to be ideal. James has an easy-going nature and is a patient teacher. His knowledge of the Peak District provided a variety of locations that allowed us to practice a whole range of techniques. Using weirs, underground tunnels and sweeping vistas allowed James to demonstrate how to use filters, depth of field, composition and manual focus to obtain stunning photographic results. I'd recommend a day with James to anyone who wants to learn landscape photography.
I spent a long day with James in the Derbyshire Peak district on the bluebells and woodland workshop. James met me at a carpark in Cromford and we headed out to shoot a small waterfall and had a chat about what I wanted to have a go at. I had brought a fairly new camera with me so wasn't that familiar with what it could do but James managed to get the settings sorted so I take a nice slow shot on the waterfall which I was happy with.
We walked miles during the day stopping off at James's favourite places to get photos including a nice area full of bluebells.
We ended the day on top of Baslow edge for a sunset shot which I was really happy with.
James's knowledge of photography is really good, he is very patient and gives some really good tips and guidance on how to make my photography more satisfying.
I can 100% recommend spending a session with James to gain more confidence in landscape photography. I can also recommend his book "peak district through the lens" as a must read for budding landscape photographers.
I recently took part in a one day  Dark Peak District workshop. While the early January weather was pretty poor, I nevertheless enjoyed the day. James training style made everyone feel included, he chose 4 contrasting locations that made the best of the difficult conditions and was efficient and friendly in organising the day. His local knowledge and passion for the Peak District were clearly apparent, both in person as well as in his excellent e-book: Peak District Through the Lens. I would certainly consider doing further training with James.
A combination of a detailed knowledge of the local area and a passion for photography makes for a great workshop with James.
I have come away with a number of new locations to explore – lovely to meet you James, and thanks for a great day out!
I had a great day out with James in the Peak District a couple of weeks ago. It was my first time in the Peak District and despite the shocking weather I managed to get the answers I needed and have returned since and have been practising!
Had a really great workshop with James in the Peak District. Myself and a friend learnt a lot of new techniques, took some great photos, and had a very enjoyable day talking about and learning about photography. James is a great bloke, easy-going and knowledgeable. It was a super day.
My photographic skill was left stranded in nowhere but the workshop helped me a lot. Despite the weather wasn't cheerful, it's still worth it.

I read his book before the workshop which made me quicker to get used to the environment. James always uses simple way to explain techniques and shares what he knows. A very kind and knowledgeable photographer. His book and workshops are able to help people who wants to improve their skills.
Thank you James
Having been introduced to James's book, I decided it would be a good idea to go on a workshop. Well 6th November came and I was wellie deep in water photographing several waterfalls, as in the book. I have learnt a lot about composition, filters and the weather. I'm hoping to go on more workshops in 2017. I will of course be visiting Derbyshire again to visit more of the sites shown in the book.
I attended James' workshop on Saddleworth moor recently and would recommend him to anyone who is looking to improve their photography. It was a very enjoyable day.

During the afternoon and evening I learnt a lot about composition, use of filters and simplifying camera settings in general. I can now concentrate more on getting a good shot rather than spend ages fiddling with the settings. I also picked up tips on what to take and what not to take on photo sessions.

We started off in good weather but it became apparent that a band of rain was approaching and we wouldn't be able to get any sunset shots. However, on our way down from the moor we followed a stream and were able to get some great waterfall shots. James was happy to stop and take photographs during the descent even though it was raining at times.

I found James' very easy to get on with, he is very knowledgeable and I liked his relaxed approach. Check out his web site to see some of his inspiring photographs.
Would recommend taking a course to anyone looking to improve their landscape photography. I enjoyed the course, despite the heavy rain, which forced a slightly earlier end to the course. Was introduced to filters and also talked through using Lightroom. Lots of advice and support given.
I recently had a workshop up in the Peaks with James with a view to learning more about landscape photography. In weather that can only be described as 'biblical' I had a great day chasing the light and getting some great shots. James has a great knowledge and enthusiasm for his subject and is happy to pass that on with a natural ability to teach. He also seems to have a knack of picking the right place at the right time!!

I'd highly recommend a workshop day to anyone who wants to learn more about landscape photography and enjoy a great day out in the Peak District.

Thanks James, keep up the great work!
I went with James recently on a workshop around the Peaks and thought it was a very insightful and educational experience.

I wanted to gain the confidence and knowledge to be able to take landscape photos myself and came away with a new found desire to go out and put what I learned into practice.

Would recommend for anyone wanting to learn or perfect there photography.
I really enjoyed the workshop in the Peak District on the Winter Solstice.  The scenery was brilliant and  James advice and tuition was excellent.  I am looking forward to booking another workshop with James in 2017.
Enjoyed my Winter Solstice experience with James. Weather was variable but had 3 very different locations.A first for me was taking shots with my wellies on in the water at Monsal Weir. The light was brilliant in the late afternoon at Curbar Edge, I promised James a sunset, which happened in part, but as I say wonderful light. I picked up some useful hints, including the rotation of the polariser in live view modifies the histogram and you can see the image alter. I think Elements may have upgraded the spot healing brush as this turned out to be brilliant for removing unwanted people from the shots at Arbor Low

Anyone will benefit for a day out with James and his book is superbly done as well
I attended James Grant workshop in the peak district. I would highly recommend the workshop. James really helped me in improving my photography skills.
Had a great workshop with James. I wanted to learn about filters, long exposures and water shots. I wasn't disappointed! I got so much out of the day and James is a great tutor. Thanks James!
I recently visited the Peak District to shoot the heather. In addition, I wanted to shoot other subject matter so went online to check out local photographers who offer 1-2-1 shoots. Importantly, I needed someone who has local knowledge. Where to go and the best time to shoot etc.
I came across James's website and was impressed with what I saw and read and subsequently booked a day's shoot with him. As I already knew where the heather was he arranged for us to visit some other sites featuring waterfalls: Monsal Weir and The Three Shires Head. Both excellent subjects matter for long exposure photography to capture that silky water effect. We discussed best camera angles, exposure options as well as composition which proved very useful. Landscape photography requires plenty of patience and James was very happy to wait until I was ready to move on. Our last visit was for a sunset but as this was not to be so we went for a drink to finish off what was a very enjoyable day. James charges a very reasonable day rate and it also includes a 400 page e-book titled: 'Peak District Through the Lens'. This is an excellent and very detailed book covering 100 sites and offering plenty of advice. I have no hesitation in recommending James.

If you have any issues with the below form, please email:
admin@jamesgphotography.co.uk