Winter is almost over, so it may seem a little strange to be doing this review now but I got a pair of Vallerret Photography Gloves – Markhof Pro Model for Christmas and as with any review I like to try the product out extensively before writing my review and opinions. The review may be late but I'm sure it'll be gloves weather for another month and it may plant a seed for next year.
So, gloves then. As a photographer we generally want gloves where we can keep them on but still operate our cameras. From experience, I've found different people cope in different ways with the same glove and how much they can use a camera. For example, I could quite happily operate controls with a fleece mitt but others I know haven't been able to.
But I've tried to refine what gloves I wear over the years. In earlier years I found a pair of fleece fold-able mitts would generally get me by. They were warm and generally were amazing in allowing operation of the camera and when it became too hard, you can quickly flip them back. I coped with this for many years but eventually started to get frustrated in the damp conditions where the gloves aren't waterproof.
The next step was a layering system. I used a pair of MacWet Climatec golf gloves with a pair of Montane Prism Mitts to go over them when not using the camera. So, why this change in approach? Well it was recommended to me as something that was a little more water resistant. The MacWet gloves were warm and great, even when wet. They were also thin and allowed easy use of the camera. When not using the camera, it would be time to pop on the Montanes, which with their thick fleece pile kept the hands really toasty. The downside of the Montane, while water resistant, didn't take much to get wet, especially when scrambling about on rocks etc.
In honesty, I didn't NEED a new setup but as photographer's, you know how the urge for new gear can sometimes be too much. I spent a few weeks mulling over a pair of the new Vallerret gloves and didn't order them because I felt I could cope. However, my girlfriend surprised me with a pair for Christmas. Thank you!
Vallerret are a relatively new company and in 2016 released their first gloves via a Kickstarter and had generally positive reviews. They are from Sweden, so they should know about the cold! Their aim was to provide photographer specific gloves, rather than general walking gloves. Some unique features would be the flip back index and thumb tips and the SD card pocket.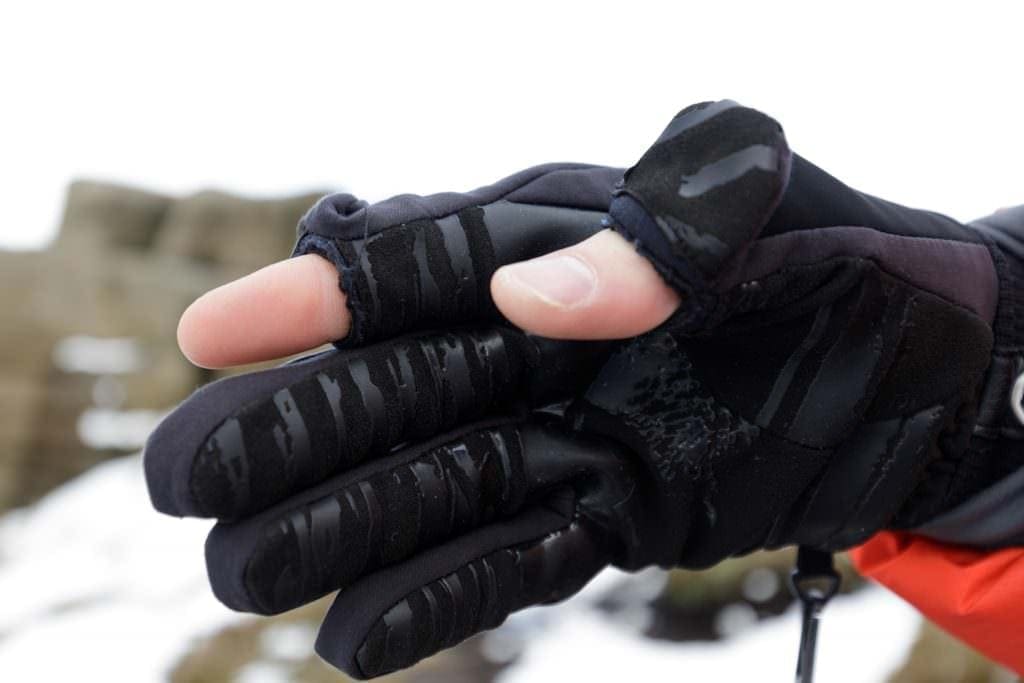 Fast forward to winter 2016 and there appeared to be a MK2 of the same original glove (which has now vanished from the website), the Markhof Pro Model which appears to be an upgraded, tougher version and the lobster style, trigger mitt.
The lobster mitts struck me as the pair that would probably be the warmest, that's because mitts allow warm air to sit between each finger but I really don't get on with lobster style gloves and it feels unnatural. Reading some of the negative points about the original gloves, I hoped they may be addressed with the pro gloves, so I went with these.
Straight from their website, this is how Vallerret describe the gloves:
"The 'Markhof Pro Model', designed for adventurous outdoor Photographers with inspiration by Landscape photographer and Vallerret Team Shooter, Simon Markhof.
Extend your session and capture those prized shots in increased comfort and in even more style with the updated Vallerret Photography Glove.
PRODUCT SPECS
100 % Merino Wool inner: Nature's best weapon against the cold ensures a fitted and warm glove optimized for photography.
FlipTech finger caps: You're ready to shoot in seconds. Just flip the finger cap and enjoy full access to your dials.
Magnets: Keep the FlipTech open and out of the way, increasing your access to your camera.
Ergonomic fit: Fitted glove to ensure a great camera feel
Softshell & Suede: Durable & water resistant Softshell with excellent wind protection. Water resistant suede and YKK zips.
Non-slip grip: Featuring Mt Cook of New Zealand. Our Super sticky grip keeps your camera safe.
Photography specs: Pocket for your SD-Card or hand warmer and microfibre lens wipe on the back of the thumb.
Jersey Cuff:  keeping your wrist toasty warm, slip on and slip off with ease.
LOWEST TEMPERATURE RATING
between -5 and -10 degrees Celsius / 14 degrees Fahrenheit"
Some pretty impressive features but at 70 euros you would expect no less. These aren't a cheap pair of gloves. Add on shipping and it gets slightly eye-watering. Maybe they need some UK distributors to help here.
One of the most notable specs is the temperature rating of between -5 & -10. In the UK it won't get too much colder except with windchill but I'm sure in the Arctic countries it'll drop well below that at times.
So, the first time I had a chance to use this was over the Christmas period in Scotland, except most days it was 12c….at night!
Fortunately, on New Years Day we got a bit of a colder snap and I got a real chance to use them. Vallerret provide a sizing chart and I picked the biggest, XL which I have to say and excuse the pun, fit like a glove. The fit is really nice and they are so comfortable.
I like the magnets in the index and thumbs on both gloves. This means when you flip the gloves back, they stay in place and the magnets are fairly strong. As the magnets are strong, rather than clipping the gloves together, I often just use the magnets, so a bit of dual purpose there. Some people have noted that because there is no overlap for the fingertip to go over the finger (and same with thumb) that you can feel the cold as there is a gap to allow the cold in. Personally I haven't found this an issue.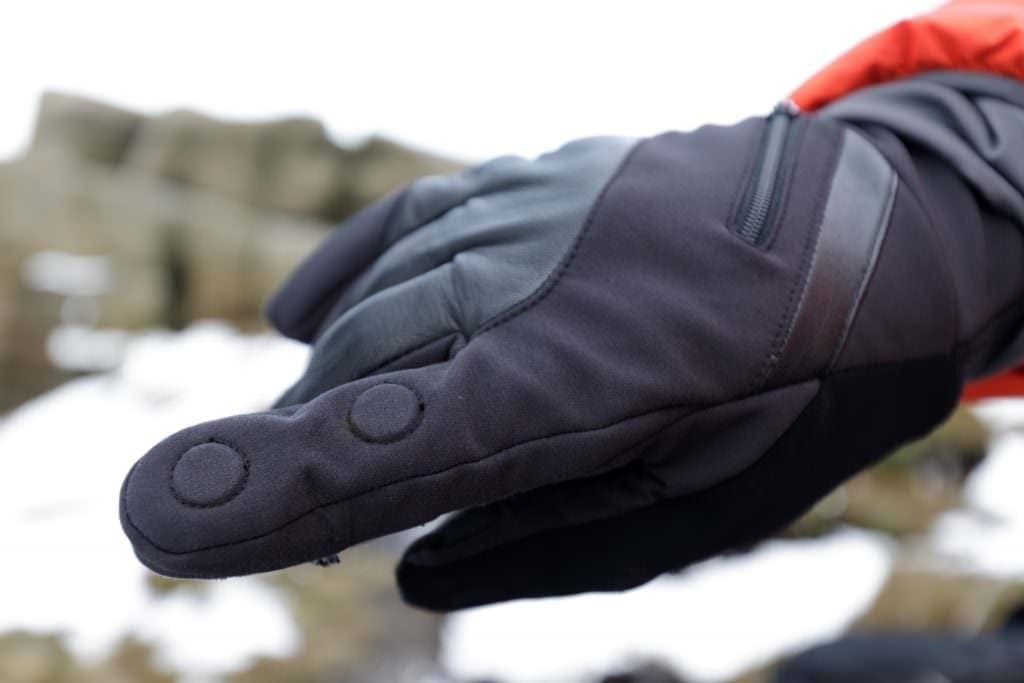 The SD card pocket is a nice touch but one I never use. I've seen others using it to store batteries, I haven't tried but imagine it may be a little uncomfortable. We will see.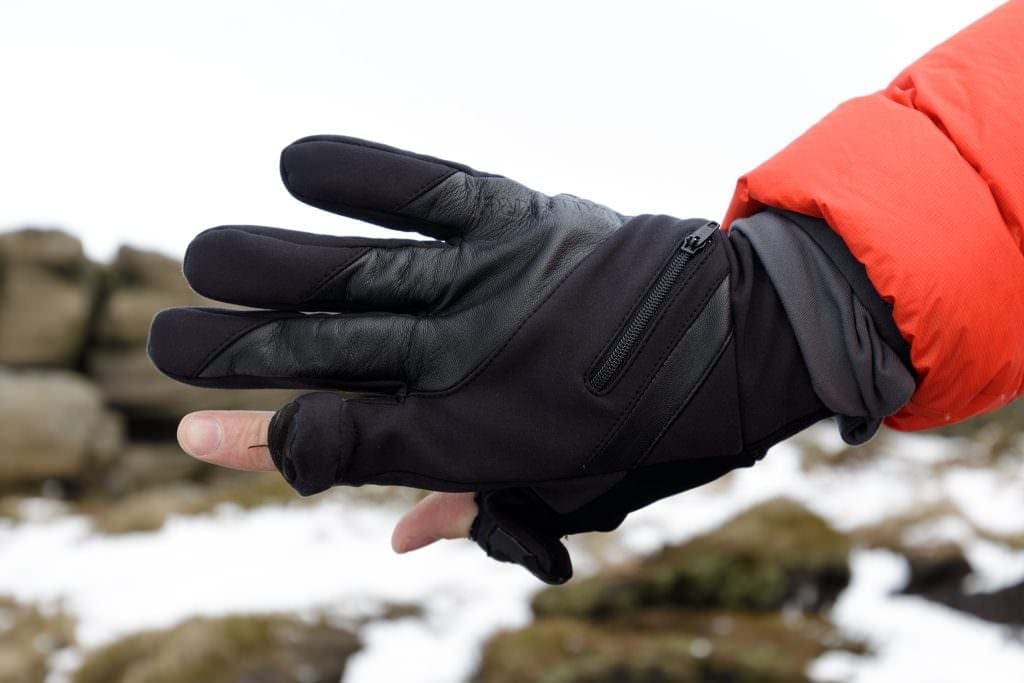 They feel robust and I really like the grippy coating on the palm. This feels premium and gives you confidence when scrambling around. One disappointment I had was on the right hand glove on the index finger the threads are loose. I cut them back but more have worked their way out. I may have to burn them to seal the threads. For the money I expect more and I think these slipped through quality control. Shame really.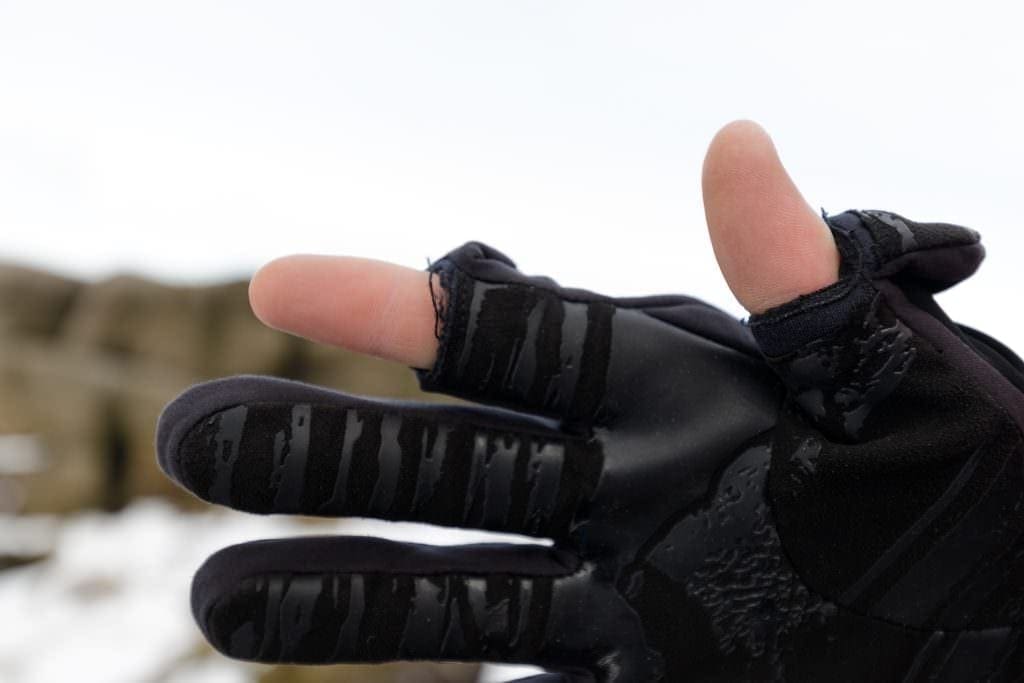 So, how do they perform warmth wise? Well a bit of a mixed bag really. For a glove thats produced in the Arctic I perhaps would expect a little more. If there's no wind then absolutely fine, better than fine actually and they do what you expect and as described. As soon as there's a bit of a bitter windchill then I found my hands getting cold really quickly and I'm not one for feeling the cold. Surprising given they are softshell which is usually windproof and then there's also a merino liner on the inside. To combat this, just this week I picked up a pair of merino liners (you could also get silk liners) and tested them out in perhaps the last snow of the season and it does improve things quite a lot. It also helps keep your finger and thumb warmer when you have the tips peeled back.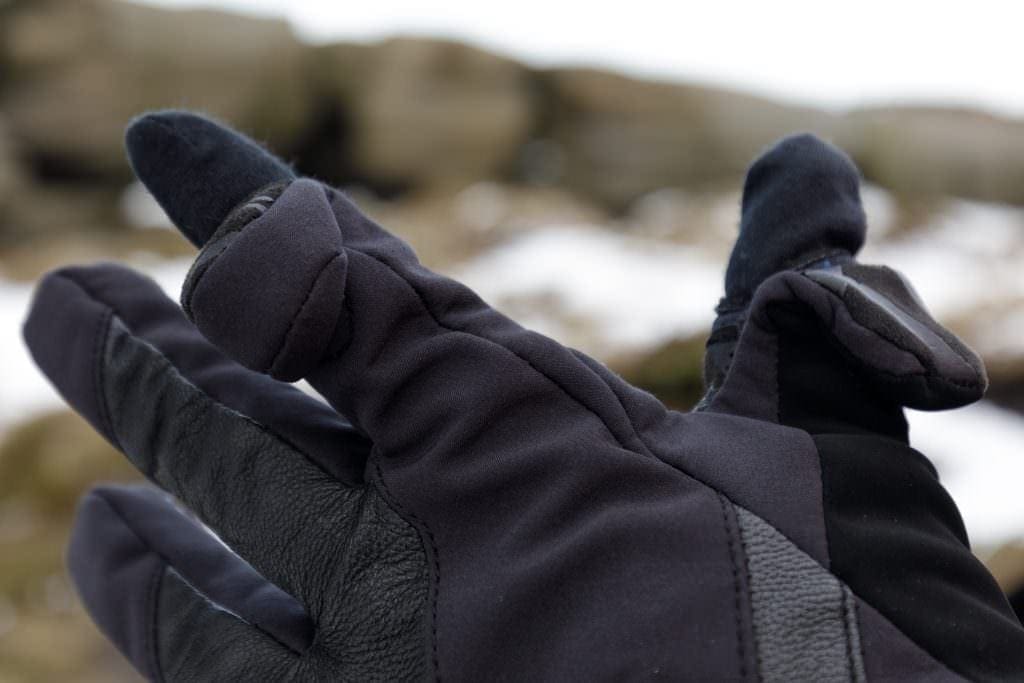 You have to bear in mind though, this is another cost on an already expensive pair of gloves. I initially felt that the gloves were perhaps mis-marketed but since then they have had an offer to supply a pair of merino liners for free (probably a limited time offer) and also done a blog on importance of layering. Still, shame I wasn't extended the same offer at the time. I've tried wearing my mitts over the top but as I have big hands I also have XL gloves and can't go a size bigger and the fit is tight. If I were normal, I'd buy a size bigger mitts and wouldn't have a problem.
So, in summary I find they perform well if there's no wind. What about when wet? Well, luckily they perform very well when wet too but this is a good thing because they are not waterproof in the slightest. They also dry fairly quickly, but do feel getting the fingertips to dry is the hardest part.
What else can we say about gloves? I'm not sure so i'll just surmise what I think of them. It's really been easy to write about the negatives of the gloves because it's quite difficult to praise the positives in detail. They are after-all just a pair of gloves. I think they're an excellent pair of gloves but not without their faults. I now use them as my main pair of gloves but I do find myself carrying my old setup for two reasons 1) It's simply too cold and I can't cope 2) they get too wet and I need a backup.
The biggest plus point for me is they're very comfortable and this is my main reason for reaching for them every-time. I also like the flip back fingertips. I'm also happier with them now I have merino liners. The biggest downside to me is the price, they're not cheap and to be honest, the design of them is not really any different from similar walking gloves which can be had much cheaper, just you wouldn't get the flip back fingers etc.
Would I recommend them? Yes I would, but it's a considered purchase at the price point and I still think it's not the perfect glove, just the best we currently have for a photographer.